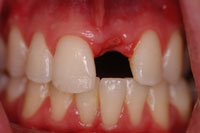 A dental implant can be used to replace individual missing teeth, replace groups of missing teeth, right through to full mouth reconstruction cases.
Implants appear similar to an actual tooth root, and are placed within the bone. The bone of the jaw then integrates with the titanium post, forming a base for the restorative work.
Implants can be used to support a number of prostheses including crowns, bridgework and dentures.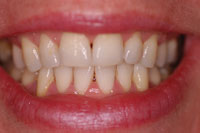 Popular, safe, and effective, tooth whitening has given patients across the world a reason to smile.
Tooth whitening is a cosmetic treatment to improve the appearance of teeth. Teeth are whitened to remove the effects of cigarettes, coffee, and other substances that can stain or discolour teeth. As our teeth age so colour can alter, and in some cases conditions such as Fluorosis and some medications can also contribute to a poor aesthetic appearance.
Everyone is different and just as our hair and skin colour vary, so do our teeth. Tooth whitening can be a very effective way of lightening the natural colour of your teeth without removing any of the tooth surface.
Composite veneers are used to improve the shape, size, colour and texture of teeth to make them more attractive. They can be used to fix minor chips and cracks in teeth, close gaps, help with stained teeth etc.
They are different from porcelain veneers in that they require little if any tooth reduction. However unlike porcelain veneers, composite veneers can be prone to staining and may not last as long.
To create composite veneers, composite material is applied to the surfaces of the teeth and sculpted to the desired shape and finish.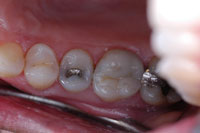 An inlay is a restoration usually porcelain or occasionally gold made by a dental laboratory specifically to be fitted to a cavity in a tooth and cemented into place.
Sometimes, a tooth is planned to be restored with a routine filling, but the decay or fracture is so extensive that a direct restoration such as amalgam (silver filling) or composite (tooth coloured filling), would compromise the structural integrity of the restored tooth or provide substandard opposition to its opposing tooth, causing problems with  the bite. In such situations, an indirect porcelain or gold inlay restoration may be indicated.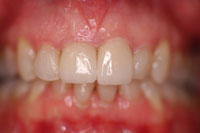 A crown is a type of restoration which completely caps or encircles a tooth. They are typically bonded to the tooth using dental cement.
Crowns can be made from many materials, some are porcelain only and some porcelain bonded to precious metal, the type recommended would depend on the case.
Crowns are often used to improve the strength or appearance of teeth and typically needed when a large cavity threatens the ongoing health of a tooth.
Dental Bridgework
A bridge is used to replace a missing tooth. The teeth either side of the missing tooth are prepared as if for crowning, and the two crowns when made support a dummy tooth (pontic) between them to fill the gap.  In some cases the dummy tooth is supported by one
Types of bridges will vary, depending upon the position of the missing tooth, how they are fabricated and the way they anchor to the adjacent teeth.
The materials used for bridges include precious metal fused to porcelain, or in the correct situation porcelain alone. The amount and type of reduction done to the abutment teeth varies slightly with the different materials used.
For more information on our range of dental treatments please telephone one of our team on 01277 658895.