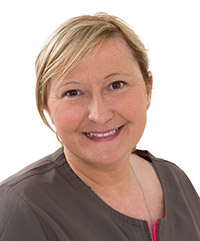 Louisa is both an experienced dental nurse and administrator she has worked with our practice for several years.  After completing her N.E.B.D.N National Certificate in Dental Nursing Louisa has continued her personal development by obtaining the Dental Radiography for Dental Surgery Assistants and N.E.B.D.N Conscious Sedation (Distinction), and the General Medical Dental Nurse Implant Training qualifications.  She was awarded The Licentiateship Award in Dental Nursing in 2006, and the CIEH Risk Assessment Level 2 Award.
Louisa has a special interest in both implant treatment and helping anxious and phobic patients Working in both general practice, implant clinics and referral sedation clinics.  Louisa brings a wealth of experience to our team.
Louisa has a keen interest in holistic therapy having passed her Anatomy and Physiology (Level 3) Diploma she is also a qualified reflexologist (level 3) Practitioner.
Louisa has been an appointed first aider since 2006.
Recent award win and finalist nominations in The Dental Awards UK.